大腸癌のための全身化学療法と併用化学療法
全身化学療法は原発性の癌のみならず、転移癌に対する治療である。
Systemic chemotherapy is regimen for not only primary cancer, but metastases. 
Keywords
5-フルオロウラシル  5-fluorouracil
イリノテカン  irinotecan
オキサリプラチン  oxaliplatin
カペシタビン  capecitabine
消化管  gastrointestinal tract
生化学的装飾物質  biochemical modulator
生物製剤  biologic
セツキシマブ  cetuximab
代謝拮抗薬  antimetabolite
チミジン酸シンターゼ  thymidylate synthase
フッ素化ピリミジン  fluorinated pyrimidine
プロドラッグ  prodrug
併用化学療法  combination chemotherapy
ベバシズマブ  bevacizumab
無再発生存率  recurrence-free survival rate
無病生存率  disease-free survival rate
リンパ節転移陽性  node-positive
ロイコボリン  leucovorin
****
大腸癌の補助化学療法及び転移疾患の基本薬は代謝拮抗薬であるフッ素化ピリミジンです。代謝拮抗薬は消化管内では活性化せず癌細胞内で活性化します。
The first-line drug for adjuvant chemotherapy and metastatic disease for colorectal cancer is a fluorinated pyrimidine that is an antimetabolite. Antimetabolites are inactive in the gastrointestinal tract, but active in cancer cells. 
最も一般的に使用されているフッ素化ピリミジン系の薬剤は5-フルオロウラシル(5-FU)です。
The most commonly used drug in the group of fluorinated pyrimidine is 5-fluorouracil (5-FU).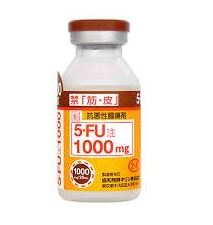 credit:  5-FU、Kyowa Hakko Kirin Co., Ltd.
5-FUはチミジン酸シンターゼを非活性化させて、DNAの合成及び修復を阻害します。
5-FU inactivates the enzyme thymidylate synthase to inhibit DNA from being synthesized and/or it from being repaired.
5-FUは更にRNAに結合して、RNAの働きを阻害します。
5-FU is further incorporated into RNA, resulting in interfering with it further processing.
5-FUは単独では特に効果はありませんが、5-FUの効能は服用方法を変えて(時間をかけた輸液)や様々な生化学的装飾物質(例えばロイコボリン)と組み合わせることにより、効果が増強されます。
5-FU itself may not effectively work.  However, effectiveness of 5-FU may be improved by adjusting administration method (prolonging infusion period) and by combining it with a variety of biochemical modulators (e.g. leucovorin).
ステージIの大腸癌は切除することにより治癒率は高くなりますが、全身療法によっては治癒率は向上することはありません。
The cure rate of stage I colon cancers can be improved by resection, but systemic therapy.
ステージIIの患者は再発のリスクが高くなります(無再発生存率は3年で約76%)。リンパ節への転移が陰性の患者で5-FUとロイコボリンを使用した全身療法にでは生存率は約3%上昇します。
Risk of recurrent cancer rises in stage II patients (recurrence-free survival rate is around 76% in 3 years).  When they are node-negative and have systemic therapy with 5-FU and leucovorin, recurrence-free survival rate increases by around 3%.
これらの患者は、術後の化学療法としてステージIIIの癌患者用の治療薬を服用する必要があります。
Patients with stage II colorectal cancer are thought to have high risk for recurrence (e.g., clinical obstruction).
局所再発のリスクが高い患者には放射線療法も行われています。
Radiation therapy may be performed for patients who are likely to have higher risk of local recurrence.
遺伝子検査により再発のリスクの高い患者の特定、及び全身療法の効果を判定することが可能です。
Gene examination may identify patients who have higher risk of recurrence and greater benefit from systemic therapy.
ステージIIIの結腸癌患者の5年無病生存率は40から45%です。
Patients with stage III colonic cancer have five-year disease-free survival rates ranging from 40 to 45%.
顕著な合併症を防止するために、リンパ節転移陽性患者はすべて補助的な全身療法を受ける必要があります。
Patients with node-positive colonic cancer need to receive adjuvant systemic therapy to prevent remarkable complications from occurring.
5-FUとオキサリプラチンの併用化学療法により長期生存率が向上しており、標準的な治療法になっています。
Combination chemotherapy of 5-FU and oxaliplatin can clearly improve long-term survival rates and is standard regimen. 
イリノテカンや生物製剤(ベバシズマブ、セツキシマブ)は進行した癌の治療に効果がありますが、術後に投与された場合は明確な効果は期待できません。
Chemotherapy using irinotecan and biologics (bevacizumab, cetuximab) can be highly effective for patients with advanced colorectal cancer; however, they are unlikely to have clear benefit when they postoperatively have these drugs.
患者に併用化学療法が行えない場合は、カペシタビンが投与されることがあります。カペシタビンは連続的な酵素の働きで5-FUに作用する経口プロドラッグです。
If patients cannot receive combination chemotherapy, capecitabine, which is an oral prodrug activated to 5-FU in sequential enzymatic steps, may be administered.
併用化学療法として、カペシタビンはオキサリプラチンと効果的にかつ安全に併用されています。
For combination chemotherapy, capecitabine has been effectively and safely used together with oxaliplatin.